Cheerleaders pump up the crowd
The varsity cheer squad will be supporting the Rams' football team today as we are being hosted by the the current state champion Ankeny Hawks. 
The cheer team helped bring the Rams to victory for the first three games of the season when they went head-to-head with Dowling Catholic on August 27, Valley WDM on September 3 and Waukee NW on September 11.
Senior Bailey Williamson has been part of the varsity cheer team since her freshman year. She shared her experience cheering for the opening game of the season.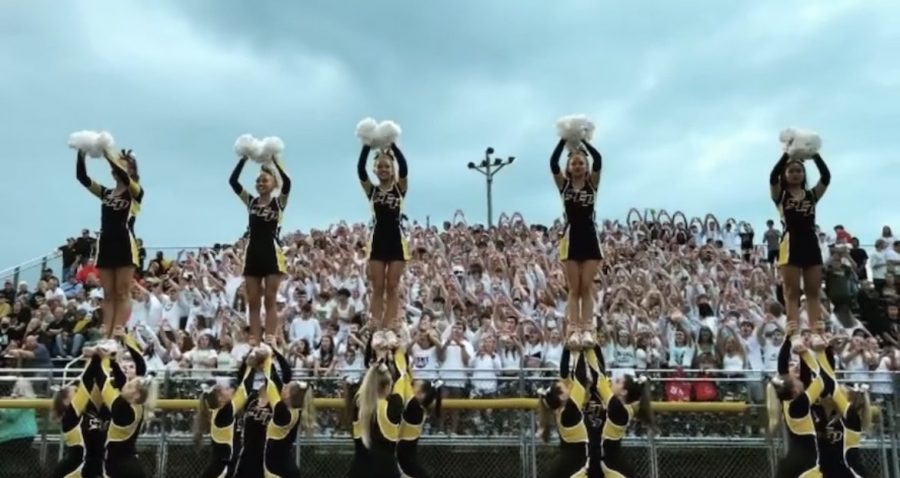 "I was honestly at a loss for words. It was so cool to be watching the game up so close and winning at the last second, you could hear the crowd go crazy. I could tell from that moment that the season was going to be a good one," said Willamson. 
The cheer team attends each game, home and away, keeping the crowd pumped up while performing cheers, stunts, and tumbling. 
The Rams cheerleaders had their first performance in front of a crowd at Southeast Polk's Black & Gold Night on August 19. Sophomore Ava Francois is a first year member of the cheer squad. 
"I think it was pretty good for our first time performing as a team and in front of people. All of our stunts hit and our tumbling was in sync. A lot of work was put into it," said Francois.
The cheer squad practices three days a week in the Commons from 3:20-5 p.m. after school. 
"Practices are a little different this year," said Williamson. "They are split up to focus on our needed areas of improvement, our coaches will decide if we need to focus on technique, stunts, or the cheers." 
The coaching staff for the varsity football cheer squad consists of Marci Keesee and Tori Monroe. 
"Marci is our head coach. She leads our practices and kind of just moves around to work on different things. Tori is the football cheer head coach. She mainly does the choreography of our stunts and pyramids," said Williamson. 
Both Williamson and Francois are participating at the state championships in November. As returning champions from state 2019, the Rams hope to place at least in the top 3 with their young team.