Athlete Of The Month: Sadie Ferrell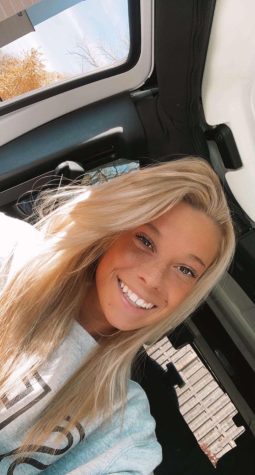 Q: How many years have you been cheerleading?
A: I have been cheering since my sophomore year of high school, so this is my third year.
Q: Do you participate in cheerleading outside of school? If so, where?
A: I take private tumbling lessons twice a week with one of my coaches at Koach All Stars. I also coed stunt with one of the ISU male cheerleaders on Wednesday nights at open gym.
Q: How often does the cheer team practice together?
A: For football season we would have practice every Tuesday, Wednesday, and Thursday from 3;15-4;45. For the competition team we had practice right after varsity football practice until we took three videos of our performance that we were proud of. For basketball cheer we have practice every Wednesday from 3:45-5.
Q: What is your favorite sport to cheer for and why?
A: My favorite sport to cheer for is basketball because our team is much smaller so we have the chance to grow closer together. I love how fast paced basketball games are.
Q: Do you plan to continue cheerleading after high school? If so, where?
A: Yes, I would love to continue cheer after high school at Iowa State University.