January Athlete of the Month: Krista Polson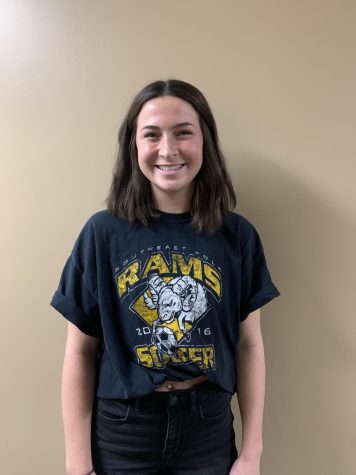 Q: What inspired you to start wrestling?
A: I just thought it was, like, a really cool sport, and I wanted it to be known that it's not just a boy sport.
Q: How long have you been wrestling?
A: I've been wrestling for a year.
Q: What has been your favorite event so far?
A: I really like the duels in Colfax. We had an all girls duels meet, and so that was really fun.
Q: Do you plan on wrestling after high school?
A: Yes, I want to wrestle at Grandview.
Q: What have you learned from your time wrestling so far?
A: It's a lot more than, like, struggling out of the other persons arms. it's a lot of technique, and it requires a lot of strength.
Q: What has been the most challenging part so far?
A: Probably just, like, getting over the mental barrier of it being a boy sport, because there is a lot of backlash. You know you hear the parents talking about, like, oh they're wrestling a girl, or something like that. So it's just like, getting over that mental block.
Q: What has been your favorite part?
A: I really enjoy the practices and meeting all the new people, because it's a group of pretty cool girls.
Q: What has been one of the first girl wrestlers meant to you?
A: I feel like all of us girls are, like, trailblazers. So we're like marking the path for future girls' wrestling.
Q: What are you going to miss the most after graduation?
A: Definitely my team.
Q: What advice do you have for underclassmen coming in?
A: Just do it anyways. That's one of the things that, like, our coach says to us. That there's going to be things that happen in your life that you don't want to do, and just do it anyways and it makes you stronger.