Boys' Swimming Improves Through Season
The boys' swimming team is pushing through the mid-season.
Senior Camaron Moss has been swimming for three years including one year at East. Moss shares his reasons for joining swimming.
"A family friend of mine knew Cassler and I used to swim with my grandpa when I was younger," said Moss.
Moss swims breaststroke in the 200 medley relay and 100 breaststroke. He enjoys those events at competitions.
Moss said that his coaches do a good job pushing the swimmers to be the best. Moss also said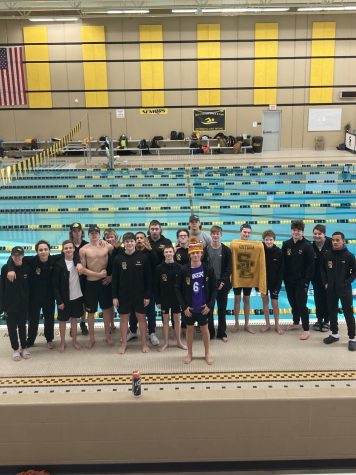 the most rewarding thing at a meet is dropping time.
"Dropping time is like a personal gain," said Moss.
His advice for the team is do not skip yards because it will only hurt yourself.
Head coach Dustin Cassler is no stranger to the pool. Cassler has coached for 18 years and was a former SEP swimmer. Cassler shares his reasons for getting into coaching.
"I had a great high school swim coach at SEP, Larry White, who really inspired me as an athlete, which made me want to get into coaching," said Cassler. "I planned on swimming in college, but I got my first coaching job almost right out of high school so I took that path instead."
Cassler's favorite part about coaching is when his athletes work hard in practice and have it pay off at their end-of-season championship meets.
He shares his goals for the team.
"I hope that all swim personal records (lifetime best times) at their championship meets, and for us to qualify multiple individuals and relays to the state meet in February," said Cassler.
Cassler shares some advice for the team.
"Continue to give your best everyday by working as hard as you possibly can so you have no regrets down the road," he said.
Their future meets are the district meet on February 5 and state in Iowa City on February 12.