Rising Toward the Future
RISE give students an opportunity to experience the business side of the world. The class allows students to learn from and connect with businesses in the Southeast Polk community. RISE is instructed by business teacher Chelsey. Sadler, who is able to guide students into real-world experiences.
"RISE is a project-based learning course where students partner with local businesses and help them with projects," said Sadler.
The classroom setting of RISE can be a beneficial experience in itself. The class collaborates on projects for local businesses and sets up meetings with business partners.
"The class is run like an office environment where the students create their to-do lists and delegate and tackle the things that need to get done on the projects," said Sadler.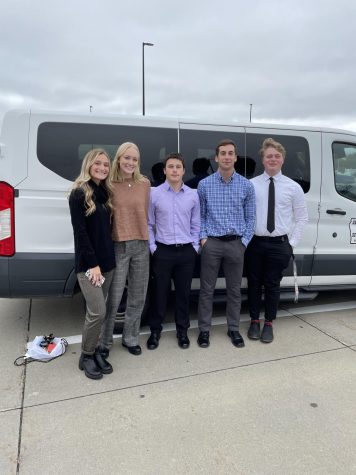 Students in RISE recently just held a successful event called Seminars for Students. Students planned this event to target juniors and seniors interested in knowing what to expect when going into college. The class was able to invite former SEP students in college to come answer students' questions, speak from experience, and give advice.
Students of RISE have now been working on projects for the future.
"They are currently helping plan the Black & Gold Gala, which is a fundraiser that Southeast Polk Education Foundation hosts. There will also be another Seminars for Students that will be targeted towards students wanting to go directly into the trades," said Sadler.
RISE welcomes juniors and seniors interested. The class meets seventh and eighth period and is flexible for students wanting to take it for one semester or for the whole year. Upperclassmen have the benefits listed above and also receive 7 DMACC credits. Students can sign up through Xello or through their counselor.
"I encourage students who have a desire to strengthen their business skills to join the class as we focus on 21st Century Skills, and there is so much professionalism that is incorporated into the class," said Sadler.