Custodian Appreciation: Zach Paddock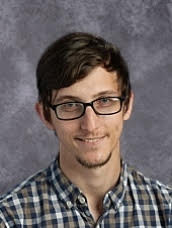 Q: What year did you start working at Southeast Polk High School?
A: 2013. 
Q: What is your favorite thing about your job?
A: I think the people: the teachers, coworkers and supportive staff.
Q: What do you love about Southeast Polk (the community, school, etc.)?
A: I really like our facility; it's really nice. I like my coworkers and people that I get to interact with.
Q: Where did you work before Southeast Polk?
A: I worked at Carlisle Schools and Hy Vee briefly.
Q: What is the most interesting part of your job?
A: The more technical things [like] fixing things out of place. It's interesting to learn the interworking of the building, I do it more now than I use to.
Q: What do you wish students knew about your job?
A: How much we are here. We're always on call if things go wrong and there's little things we do that people don't know of.
Q: Why did you choose to work at Southeast Polk?
A: I have a family legacy here, my dad worked here for 28 years and my grandpa worked here beforehand. My family has always been treated well.
Q: What are your favorite things to do while you're not at work?
A: I like to play guitar and sing. I also like gaming and fishing.