Campus Visits Help Upperclassmen Make College Decisions
As the school year comes to a close, many juniors and seniors are thinking about their next step – college. It is generally recommended that you go on college visits to find the best fit for you, and that you complete them during your junior year or early in your senior year.
Guidance Counselor Lanny Brand recommends that students start the college search during their junior year of high school.
"First of all, find out what you want to do. Fill out the FAFSA, so you know what you're going to get for financial aid," said Brand. "Before even committing to college, ask if you really need a two- or four-year degree to do what you're doing, or if you can go to an apprenticeship program."
Starting the college search process can be overwhelming. Some don't know where to start or what to look for. Brand offers advice.
"Consider cost and how it fits what you want to do," said Brand.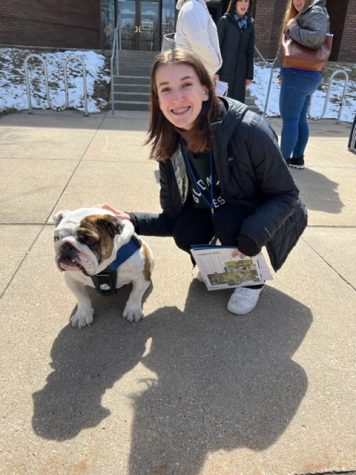 Senior Ella Scott has gone on three college visits. Some underclassmen may be overwhelmed with the idea of college. Scott offers advice to those individuals.
"Visit as many colleges as you can to find the perfect one because you don't want to regret a decision as big as this," said Scott.
Scott took time to browse her options, and find the school that fit her criteria. She shares her requirements.
"I was looking for the college that would be best for my major and had the best opportunities that would help lead me to success in life after college. I also wanted to make sure the social environment was good and I could see myself fitting in there," said Scott.
Ella plans to attend Drake University and major in History.