RISE Encourages Students to Branch Out Into Business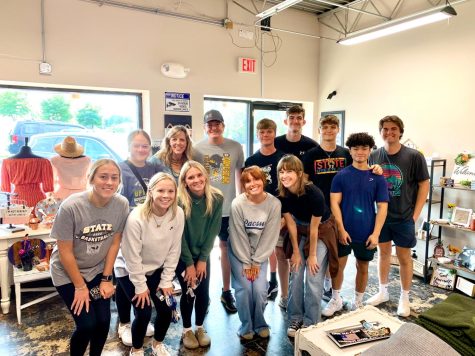 The business focused class RISE has been busy at work with multiple projects in the making. Students in the class have had the opportunity to help with local businesses and members of the community. Senior Lindsay Baerenwald is new to the class and is getting a sense of the business world.
"It's an opportunity to become comfortable with a new learning environment that goes beyond normal high school experiences," said Baerenwald.
Students a part of RISE have described the classroom to be structured differently than most classes. The environment of the class is used as more of an office space rather than a classroom.
"I would say the class is pretty flexible, and there is definitely a level of independence where the students of the class really lead the class the most," said Baerenwald.
This project-based class is allowing students to venture out into the business world to experience real world events. RISE is giving students learning opportunities that many other classes do not offer.
"It really is one of a kind. You get to experiment with actual projects where you have responsibility and control over what you are doing," said Baerenwald.
Business teacher Chelsey Sadler has been the instructor of RISE for two years now. Sadler has been a mentor for the student's current projects for the semester.
"We are partnering with the business office and creating a culture deck. We have also partnered with Michelle Hanson to help with Empress Threads, We Give a Ram, and The Hanson team. There is also a group working with Prairie Meadows and their Veteran's Day celebration," said Sadler.
This class also offers lessons on real world expectations and business skills needed after high school. RISE teaches students how to create your online portfolio, resume, how to scrum, and more.
"We have an onboarding process where students learn professional skills and business communication," said Sadler.
RISE is a collaborative and leadership class for students interested in real world business.
I recommend that you broaden your horizons even if you have the slightest interest in it. I just encourage kids to get involved," said Sadler.