Health Careers Advances Medical Education for High School Students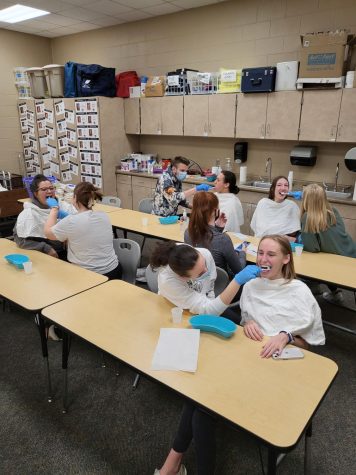 Health Careers is a dual credit class that seniors at Southeast Polk can take to advance their education and knowledge of health science, while obtaining DMACC credit. Students can choose a variety of different courses that they want to take and have the opportunity to earn their CNA certification.
Many students consider it as the first stepping stone into pursuing their future career.
"I think it is beneficial because you have the ability to work in health and narrow down what you may want to do," said senior Abigail Lauters.
Lauters is currently taking nurse aid and will be taking medical terminology next semester. She thinks that this experience has really helped her prepare for college and her future career.
"After high school I plan on taking online community college courses while I have hip surgery, then continuing my education. In the future my hope is to be a labor and delivery nurse," said Lauters.
The nurse aid class that Lauters is currently apart of allows you to work towards becoming a CNA (Certified Nursing Assistant).
"At the end of the semester if you pass all clinical and theory, then you can get state certified by taking a multiple-choice test and demonstrating skills at a testing cite," said Lauters.
The only downside to becoming certified after the class is you no longer will be able to receive college credit from the nurse aid portion of the course. The class still helps you feel what it is like to be in an actual college class.
"The class is great at preparing for college as there are no retakes or extra credit, and you have to have a higher percentage to pass the class," said Lauters.
Students can apply until the middle of February. The application asks you about your past science experience and what your class preferences are. Applications are located in the guidance office for anyone interested in joining.