Teacher Academy Gives Students New Opportunities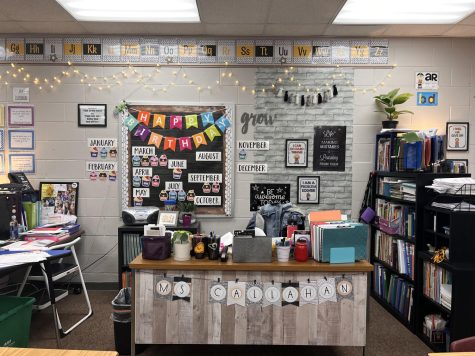 Upperclassmen are getting first-hand experience teaching in classrooms this semester.
Foundations of Education, also known as Teacher Academy, is a dual credit course where students learn about teaching strategies, the history of education, get to observe in the classroom, and help with teaching. Students get to choose their placement from a list of teachers who volunteered to have a student from the class help in their classroom. Once they receive their placements, they at least go twice a week.
Senior Hannah Millard joined Teacher Academy because she wants to become a teacher and thought it would be a good opportunity to make sure it's the career she wants to pursue.
"I like working with kids a lot so I think that has kind of pushed me towards that and I think being in teacher academy has shown me that I want to do it more because before I was kind of doubting it, " said Millard.
However, getting first-hand experience isn't the only benefit of this class. Teacher Jennifer Crawford and Millard both explained that even if you are not sure you want to become a teacher, it could help with learning how to speak in front of people.
"We do several presentations and talk in front of both the class and during their placements, so if someone wants to work on their public speaking, it may help them," said Crawford.
 Although due to the structure and lessons given in the class, it is most beneficial to students looking to pursue teaching after high school.
 "It may not be beneficial to someone who is not the least bit interested in education," said Crawford.
Crawford recommends if you are interested in teaching or taking Teacher Academy you should be around students or children as much as possible to make sure you enjoy it. To be considered for a spot in the class, students must fill out an application and have completed English II.