Cross Country Coach Receives State Honor at State Meet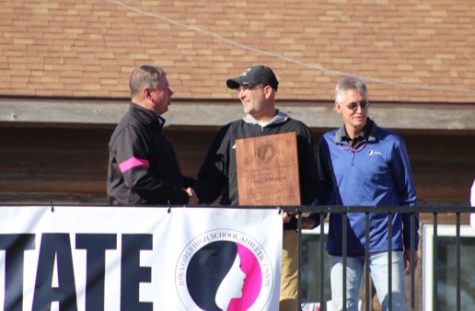 The Golden Plaque of Distinction Award is given by the Girls' High School Athletic Union, and this year was awarded to Southeast Polk's girls' cross country coach, Chad Willeford. 
Willeford has coached cross country for 27 years, and this year was "awesome!" 
"The culmination of the season and qualifying for the state meet was a testament to the tenacity of our athletes," said Willeford. "They were dealing with adversity, they were being told outright by others that they were not one of the top 15 teams in the state and they simply shook it off and put together a memorable performance at the state qualifying meet."
The award to Willeford is like an award to the whole program of girls cross country, and it doesn't fully define his coaching career. Being the cross country coach has helped him in his everyday life.
"Coaching has helped me appreciate the small victories in life.  It has allowed me to work with some fantastic human beings (both athletes and coaches)," he said.
Willeford has also had the opportunity to coach his daughter, senior Gwen Willeford for the past four years. Both agree the experience has been bittersweet, but they enjoy the good moments. 
"I'm going to miss having my dad as a coach so much. It is such an unique experience that not many people get," said Gwen. "I wouldn't trade it for the world."
"[Coaching Gwen] was something that I would never trade and definitely a highlight of my coaching career," Willeford said. "Watching her persevere and fight through physical issues impressed me beyond words. I am a proud coach, but I am even more proud to be 'Dad.'"
The Golden Plaque is a large accomplishment to the Southeast Polk Community. According to ighsau.org, the Golden Plaque of Distinction award honors the Iowa coach who has demonstrated a successful career while making notable contributions toward school, community, and the coaching profession.
"I don't think there is anyone more deserving of the award. He is so dedicated to the sport and doing everything in his power to help each athlete reach their goals. He puts an insane amount of time into the sport, and not everyone gets to see that. Not only does he do so much for our highschool team, but also for junior high and youth running in general. He is a super humble guy and refuses to take credit for his accomplishments, but he really does deserve every part of this award. I am so immensely proud to call him both my coach and my dad," said Gwen.