Diving Into Boys' Swimming Season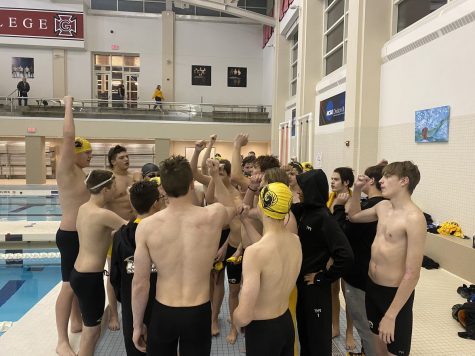 The boys' swimming program is a unique sport that is led by grade-based leaders with Bondurant student Ayden Hall leading seniors, Jamisen Field leading juniors, Brady Snetselaar leading sophomores, and Bondurant student Davin Butler leading freshmen. 
Junior Jack Fertig has been swimming for 10 years, including six years with the Southeast Polk swim club and on his third year of swimming at the high school level.
  "It's just something that is different and it is a different sport. I mean there have even been wrestlers that have tried to come to swimming and went back to wrestling because they said swimming was harder. It's something that's challenging and not many people think that's all that hard but once they get there they don't finish the season," said Fertig. 
The program is built around a difficult sport. The boy's program continues to make their group unique with traditions such as team breakfasts and dinners with fun activities such as wrestling and playing cards. 
Head coach Dustin Cassler has been coaching for 19 years, starting his sophomore year of college as an assistant coach. 
"Swimming is different from other sports because we're the only sport where one cannot breathe whenever they want to," said Cassler. 
Swimming is a difficult sport. While being underwater, there is limited ability to breathe while still going as fast as possible; thus adding to the challenge of the sport. 
"In swimming it is a sport that is unique as a whole because while you're swimming for your team because you score points that way," said Fertig. "You want to try and swim your fastest time so you can score as many points for your team." 
Although swimmers compete individually, it is still a team sport. In order to win a meet, a team needs the most points. In order to win the meet, the swimmers have to be faster than their opponents. 
"Time improvement is the objective every year, but how we get to that is focusing on the little details everyday in practice," said Cassler. "The main goal we always continue to improve are our times, which in turn makes us amore competitive team, gets athletes tostate, and helps athletes place at state."
The team focuses on details such as breath control and propper swimming technique.  
"[Our goals are to] swim competitively in all meet. [While representing] our team, school, and community well," said Cassler. 
Both Cassler and Fertig want to see the team excel and see multiple events on the SEP fast five record board.