Girls' Wrestling Begins First Sanctioned Season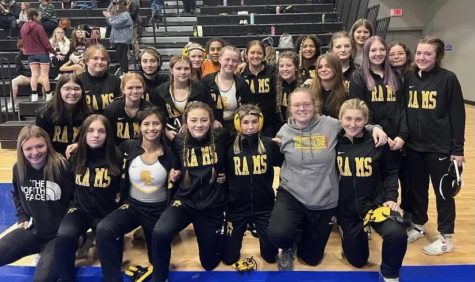 The girls' wrestling team has started its first season as a sanctioned sport.
The Iowa High School Girls Athletic Union made girls' wrestling a sanctioned sport in Iowa, in January of 2022. As a school-sanctioned sport, the wrestling team has full funding and the school provides equipment and uniforms.
Head coach Dwayne Meyers has been coaching wrestling for 22 years, but this is his first at Southeast Polk.
"I wrestled in high school and college and was very fortunate to have some great coaches along the way. I had a friend and former teammate that was coaching at our old middle school, and I came in and started helping out," said Meyers. 
The team has made some good progress over the season with both experienced members and some who are new to the sport. 
"We are already starting to see good progress this season. For most of the girls, they are brand new to the sport, so getting some of the fundamentals down has been key. Now that they have all had a taste of competition, you're starting to see more of the technique we've shown in practice pay off in matches," said Meyers.
Sophomore Campbell Crabb has some past experience from wrestling in second and third grade, but joined high school wrestling this year.
Crabb feels she has had a successful season so far, and even placed sixth in a tournament.
"I have a decent record for doing my first real year of wrestling competitively," said Crabb.
Joining the wrestling team can be beneficial to students both mentally and physically, and can help students learn skills applicable later in life.
"I think some of the biggest benefits to the student athletes are the lessons that are learned and can be applied later in life," said Meyers, "It's one of the few sports that require so much from an individual while still having a team component as well. Mental toughness, determination, and discipline, are more common characteristics of wrestlers." 
Additionally, Crabb has enjoyed the sense of community she has gained during her first season of competitive wrestling.
"I came into a supporting and loving community of girls and am a part of something greater than myself," said Crabb.