Canvas debuts as new learning management system
New required Canvas system sweeping the school!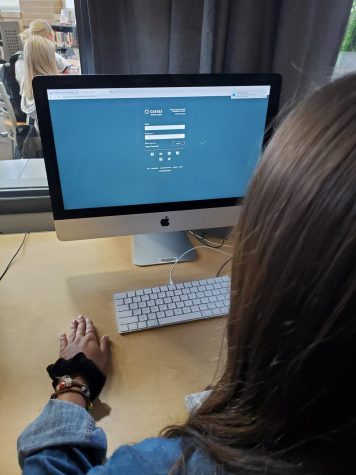 Canvas is the new learning management system used by teachers at the high school this year.
It was piloted last year with teachers having the choice to use it or not. Business teacher Sarah Rowe was one of those teachers who decided to use Canvas last year.
"I was new to Southeast Polk last year so when they announced that they were switching to Canvas I just jumped in," said Rowe. "I like Canvas better than [Google] Classroom. I feel like It has more tools and it's more robust for me."
Canvas provides teachers with a tool to organize their online assignments. It offers features like syncing assignment scores on Infinite Campus. Google Classroom did not offer this tool so teachers had to go through each assignment and input scores on Campus themselves.
"I like that all the resources are in one place and it makes grading assignments that are turned in online easier for me," said Rowe.
Students like junior Macalah Tucker are enjoying the easy usability of Canvas as well.
"It's easy to go through and find what you need instead of like looking through several options," said Tucker.
While Google Classroom and Canvas are both programs that organize assignments online, some students are finding that Canvas has better navigation.
"Google Classroom is more spread out and Canvas has tabs of where you can find stuff. It is just easier to navigate," said Tucker.
School officials are really trying hard to make sure that everyone is comfortable with Canvas.
"Southeast Polk has made the commitment to help teach us how to use it better and I think as us teachers get more comfortable with it, it will be the choice that [we] prefer," said Rowe.