Chromebook Repair Center embedded into school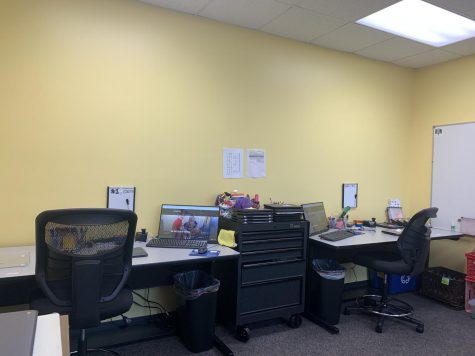 The Chromebook Repair Center is a place where students can go fix issues with their Chromebooks. The Chromebook Repair Center is located in the back corner of the library. The tech center is led by Shawn Cross who is assisted by students who are interested in technology.
One of those students is sophomore Adrian Schuldt who has always had a passion for technology.
"I took this class because I like to repair computers and it looks good on resumes," said Schuldt.
The center has been busy lately fixing broken screens, keyboards, and track pads. If students have a broken laptop, they should start off by making a ticket. Library Clerk Renee Harris can assist with this step. If students have any questions, they can  go back to the tech lab and ask.
Students who work in the repair center don't receive credit, however it leads to awesome opportunities and looks good on resumes.
"Last year was our first year and one of the seniors who was a part of the lab is now working in the Tech Department part time for the school," said Cross.
If students are interested in being a part of the staff, they should talk to Cross or their counselor to get an overview of the experience.
In order to work in the Repair Center, students must have to have a study hall because that is when work is completed.  There is flexibility if a student needs to use that time to make up an assignment instead of working in the lab.
Students are getting lots of hands-on experience from working at the Repair Center.
"They wanted students to be a part of the Chromebook Repair Center because they wanted to give students the opportunity to have hands on tech experience and learn more about tech. There are 9000 student Chromebooks in the district and we service all of them with the assistance of adults, so the more help the better," said Cross.