Girls' rugby team is ready to ruck and roll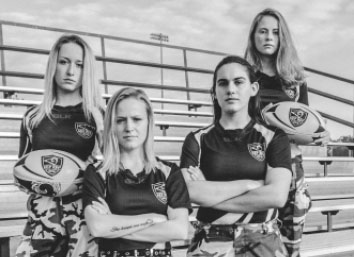 The girl's rugby season is in full swing and this year the team is working harder than ever for the state title. This is my third year playing and I can without a doubt say that we are doing so much more work this year than the past two. We have a bigger, stronger, faster team which is helping us to be better than ever. The team's coach, Joe White thinks the same.
"We have a very aggressive team. Girls really wanting to make solid wrap tackles and take control of the game. The girls are in amazing physical condition right now because of our conditioning coach. We also have more experience this year than any other team in the league. We have five players selected to play for the All-Iowa team last summer," said White.
A lot of other teams lost most of their starting players last season. Half of our team are returning players, which gives us an advantage. Our players have a lot of knowledge and understanding of the game because of our coaches and rigorous training.
Senior Maslyn Hull started playing this year and made the varsity team.
"I love the adrenaline rush you get. I was scared at first to tackle or get tackled, but after the first hit I was good and not as nervous. I love the girls on the team and it literally feels like a family to me. Everyone has great energy," said Hull.
Rugby is all about teamwork. Every good thing you do in a game is to help the next person do another good thing. The fact that this game is so team-work-based, really brings the players close. There is no room for jealousy or fighting within the team. One little problem between players can really mess up the whole team.
Another great part about this sport is that it gives young women a chance to be aggressive and show how strong they are.
"Young girls do not get many opportunities to tackle or be aggressive. With rugby, they have that ability, and many realize that controlled aggression is a stress reliever. It is also a confidence booster. I want these young athletes to realize that it is okay to be strong and fierce," said White.
The game of Rugby has really helped me realize how strong I actually am and that I can't let little inconveniences put me down. I have learned that I can't be selfish and that I need the help of others to succeed.
"I have learned that you gotta keep pushing and that effort is everything. You have to have the right mindset to play sports like this. There could be a turn around in rugby real quick and if your head ain't there then neither are you. But it's definitely a team sport and you just have to get along with everyone. That's what makes it so great. It can bring friends back together and create new friendships," said Hull.
Rugby has really changed my life. It has made me more physically fit and made my mental state better. Although it is hard, it has taught me so much about myself and life in general.
"Rugby is the fastest growing sport in the US right now and those who get involved understand why. Sevens rugby is an extremely fast game that requires a lot of conditioning, which makes it perfect for multi-sport athletes. Student athletes looking for something new and something challenging need to consider playing rugby. It will not be easy! In fact, it will be the hardest thing you ever love doing," said White.