Boys' golf learns every shot is important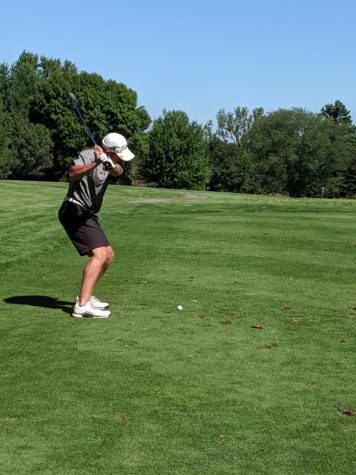 The boys' golf season started on August 12 with the team's first meet just a week later on August 19. Math teacher Scott Powell has been the head coach of the boys' team for five years.
"I decided to coach golf as it was my favorite sport to play in high school. It is a sport I am passionate about and know I can help students learning and mastering the game," said Powell.
Senior Trent Mack is a player on the team of 32 boys total.
"I started playing in my freshman year. My dad said I needed to do something over the fall, so I just decided to play golf," said Mack.
Both Coach Powell and Mack are optimistic about this year's team.
"We have a great mix of youth and experience this year. It is a year that all our goals are possible, we just have to be willing to work together and push each other to get there," said Powell.
Powell hopes that his players will learn how to be mentally prepared and focused for every shot they take over the course of the season. They hope to do this by practicing everyday, varsity and junior varsity teams meet at Copper Creek Golf Course and freshmen and sophomore
teams meet at Toad Valley. "We show up, hit a few range balls and then we usually go play nine holes or we kinda just stay on the range and work on some stuff on the putting green," said Mack. Powell wants students to get involved with the sport and understand they can make the sport what they want it to be.