A Fun Distraction: iOS 14 Update
On September 16, 2020 the world changed for the better. Okay, that is a bit dramatic, but about two months ago, Apple released their iOS 14 software. The update included a new app library, a new version of Siri and so much more.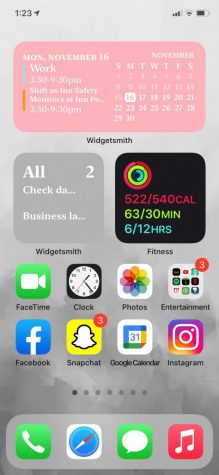 But the biggest thing that people were excited about was the new customizable widgets it offered. It allows users to change their homescreens and make them more "aesthetic" or appealing to look at. During this year of chaos, it was really amazing to see people have so much fun and be creative with their backgrounds. Some people went all out, while others opted for a more minimal look. 
Senior Juliana Formaro chose to go with a more minimalistic look, opting for a pink and grey theme. Formaro said that she thought her home screen was really boring and wanted to change it up a little bit to make it more efficient for her. 
"I like having my calendar right on my homescreen so I can see my schedule when I open my phone," said Formaro.
However, many people became overwhelmed with the update and couldn't decide what they wanted to do or where they should look for inspiration. Formaro said she found inspiration from her social media platforms such as TikTok, and threads on Twitter. She recommended that if people were struggling to find a theme they liked, they should search their social media for different color schemes that they like and inspiration will be found there. 
With everything that the world has dealt with this year, this iOS 14 update gave people something to be excited about and to have fun with again. Having the chance to create personalized home screens gave people something to do and something to get their mind off of everything for a while and enjoy themselves.
"It gave me something to do, a distraction that I desperately needed," said Formaro.