April Musician of the Month: Dana Larsen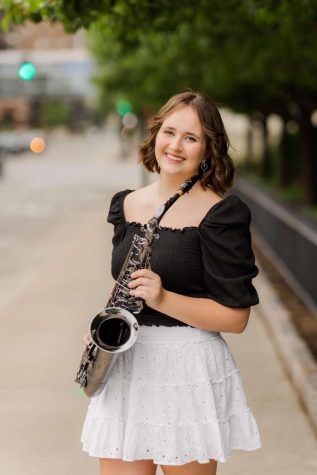 Q: How long have you been involved with music? How did you get started?
A: I have been in band since fifth grade but took two years of piano in elementary school.
Q: How did you get started?
A: It started with my mom wanting my siblings and I to take piano for at least two years and then after that we all decided to continue with band when we could.
Q: What is your favorite part of band so far?
A: I enjoy making music that can move an audience's emotions.
Q: What challenges have you faced when pursuing music?
A: There is always a plateau when one is learning a skill and that hit me in high school and it caused me to want to quit, but I pushed through with the hopes of making it into Wind Ensemble during my high school career.
Q: Are you planning on attending college? If so, which school?
A: I plan on attending the University of Iowa, but not for music.
Q: Do you plan on continuing your involvement with music in college? If so, how?
A: I have not decided on continuing music yet because of the unknown workload in college, but if I can fit it in I would love to pick up a band class.
Q: What has been your favorite memory of the music department?
A: My favorite memory from band was sitting in the band hallway during lunch my sophomore year, it built many new relationships that I never thought would happen.
Q: What would you say to those interested in getting involved with band?
A: Give it a shot and if it's not for you that is okay. It is better to try and quit than to regret not trying.