September Artist of the Month: Audrey Petersen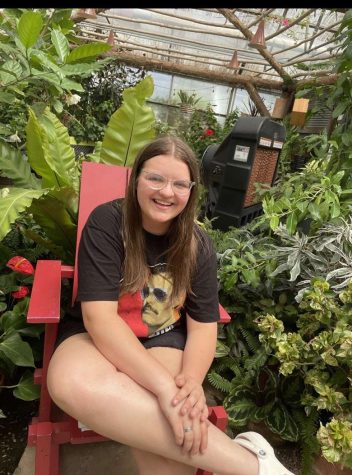 Q: What's your favorite medium to use and why?
I like painting because the feeling of putting the paint on the canvas is pretty satisfying. It's also forgiving because if you mess something up, you can go over it when the paint is dry.
Q: What's your favorite art project you've ever done?
I was recently commissioned to do a mural for one of my mom's friends for her business in Missouri. It was really fun and a great learning experience for me as an artist because it was my first commission project. The mural was a mid-century modern themed facade for her AirBnb. I incorporated things that have meaning to her such as pets and a dirt bike. I also focused on making it vintage and 1950s atomic style.
Q: What advice would you give to younger students in art?
Don't feel pressured to have a certain style or keep a style for long. Master your basics and don't be afraid to fix your mistakes.
Q: What is your favorite art class at the high school? What art classes have you taken? 
My favorite art class in high school was Art 2 because Mr. Swearngin was a really cool guy. The painting I made in it was awarded first place at the fair and was a meaningful gift to my grandpa for Father's Day. I've taken Art 1, 2, 3 and ceramics.
Q: Are you planning on continuing art after high school? How?
I'm planning on continuing to be a freelance artist and take commissions. I'm also planning on minoring in fine arts or animation.
Q: Have you ever publicly shared your art with your community or outside of school in general?
Yes, I post my art on my Instagram @oddreydraws. I share art I make there and take commissions from people who reach out to me.
Q: What's your usual style of art?
I usually do loose realism, something that doesn't have exaggerated proportions but isn't photo realistic.
Q: Is there a style of art you don't enjoy?
I personally don't like using pastels whether it be chalk or oil. They're just really messy and I don't like using them. I don't like corporate art or very derivative statements that are kind of pandering.
Q: What's the hardest challenge you've encountered in your art? What did you do to overcome it?
The hardest thing for me is proportions. I really like the process of shading and filling in shapes once I make them. Doing proportions is very mind numbing and takes a lot of concentration. With practice I've gotten better over the years.
Q: How did you get into art? How long have you been creating?
I've always liked coloring and drawing in my free time, but I really started making it a hobby of mine in 5th grade because my sister drew, and I wanted to be just like her.