The Marching Rams' Season is Off to a Great Start!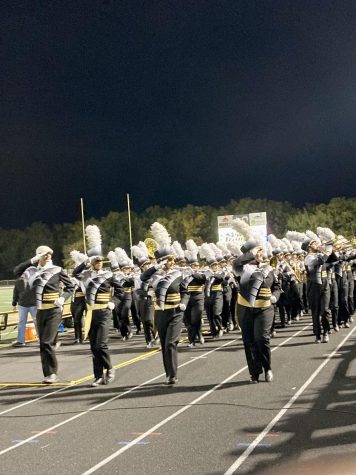 The marching band has worked hard this season preparing for football games and marching competitions.
Band director Jacquelyn Meunier has been teaching band for twenty-seven and a half years.
"We begin by choosing our leadership in drumline during May prior to our season. We work throughout summer, and have rehearsal each week. We spend Monday evenings preparing music, and building skills in marching fundamentals… During all rehearsals and class times we're out there preparing for home game performances, and competitions that we attend," said Meunier.
The band meets every morning 6:45 to 8 on even days, and 7:15 to 9:30 on odd days. On Wednesdays, they meet 9 to 9:40 or 9 to 9:20, depending on whether it is an odd or even day.
One of the biggest competitions of the season for marching band is Valleyfest.
"Valley brings in a lot of schools from around and out of state, as well as high level educators. In other words, the competition is tough," said Meunier.
Senior Will Marshall joined the marching band in freshman year, and plays the tenor drums. He enjoys the community and excitement that comes with being a part of the band.
"I love the people I do marching band with, and playing for the student section on Friday nights. The energy is awesome, and it's so much fun," said Marshall.
Munier notes that the band has persevered and grown throughout the pandemic, and have had a great season so far.
"Considering the Covid years, we couldn't ask for the band to be any better or any stronger than what it is this year. They're one of the strongest marching bands, in all aspects, that we've had for a number of years," said Meunier.
Sophomore Kyra Ballard joined the marching band this year. She plays the clarinet, and also agrees that the band has had a good season.
"I think it's gone really well, and there's something special about this group we have," said Ballard.