Fall Musical Takes Audiences 'Under the Sea'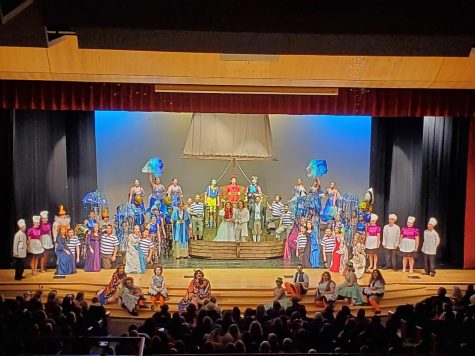 The Southeast Polk Drama Department were hard at work preparing for their fall musical, The Little Mermaid. They were busy auditioning, casting and creating sets. Everyone was very excited for opening night. 
Sophomore Grace Corwin is cast as Ariel, she was very busy and this was her first big role at the high school so she was feeling lots of emotions.
"The show is  going to be really good. The costumes are so impressive," said Corwin. "We have a lot of cool set pieces. The singing and dancing is going to be amazing."
Ella Cavin and Jamie Logan are directing the show, they put a lot of thought into which show to pick for this year so that everyone is excited.
"There are a lot of factors to consider when picking a show. Some of these include cast size, availability of resources and licensing, and technical elements," said Cavin. "We also try to give students a well-rounded theater experience during their high school career on stage, so we try to pick shows that are different from the previous years." 
This is the largest cast yet, with 72 kids involved. There is lots going on during rehearsals. At the beginning of the season, they are split into groups by leads and ensembles. Before the show premiered they all rehearsed in the same space and it all came together.
"The first time going through the show when the pieces, the costumes and the set are ready. It's really amazing and it makes you feel like all the work you have done is worth it," said Corwin. 
The costumes and set are going to be bright and colorful. The cast is staying away from more literal animal costumes and are using makeup, puppets and props to make everything look more modern and create an illusion that there are animals. 
"It will be a really exciting show with lots of set pieces, costumes, and songs that you know and love! There are also some new songs that were written for the musical that you haven't heard yet," said Cavin. "We are putting kind of a modern spin on the classic story, so even if you think you already know the Little Mermaid story, you might be surprised!"