Virtual Photography Becomes a Virtual Reality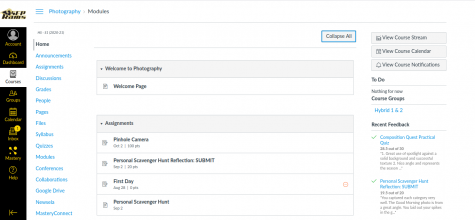 Art teacher Anne Otte's photography class, which started at the beginning of the school year, has faced some changed due to the COVID-19 pandemic. 
"Students who are online complete assignments that can be done at home. We have a Canvas page set up that includes assignments, instructional videos, and activities that they complete weekly. I also host Zoom sessions multiple times per week and record them so students can join in or watch at another time if that works better," said Otte. With hybrid and remote schedules coming into play, some changes have to be made to accommodate students' educational paths. Senior Kaitlyn McGriff is taking the hybrid course which means she does half of it in person and the other half online.
"Before submitting we would upload all our work into a specific named folder on google drive that is shared with Mrs. Otte. Then when finished we will fill out a reflection sheet over our work and submit it on Canvas," said McGriff. Assignments students complete range from photos taken, to small research activities. Whether it is a DSLR camera, camera phone, or a pinhole camera they make in class, students can use whatever cameras they have available to complete assignments. 
"Personally, I just use my iPhone camera to take photos. Currently, for those that have a hybrid schedule we are making a pinhole camera out of common materials in class and will soon be able to use those for taking photos" said McGriff. 
Aside from district regulations of consistently sanitizing and social distancing, the photography class is making arrangements in class to fight this pandemic. 
"In the darkroom, there are only a certain amount of students allowed in that small space at once. No one will be in the darkroom for more than 10 minutes in one session and workstations are set up at least 6 ft. apart. The block schedule has provided smaller class sizes so it is easier to manage these regulations" said Otte.