Marching Band Prepares to Take the Field this Fall
This year the Marching Rams had their first competition at Johnston September 17, 2022. They are very excited with all the hard work they've put into their season so far. Senior Ephram Sinnwell has been in the marching band for three and a half years and is excited for this new marching season. 
"I have been doing this for three and a half years because my freshman year I got invited to do marching band after a dropout happened in the sousaphone section," said Sinnwell. 
The band is working hard to make their performance excellent each time they perform on the field. They are getting up in the early mornings practicing endlessly their show that they always are excited to perform.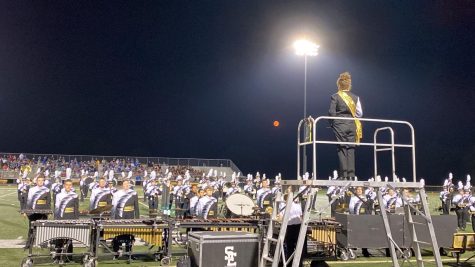 "We practice every morning, it varies depending on if it's an even day or an odd day. If it's an even day we start out at 6:45 on the football field. And on an odd day we'll start at 7:15 on the field," said Sinnwell.
This year's show is called "Among the Pyramids." The band is excited for the new show's musical style, and the unique marching techniques that they are performing. 
They have new props, uniforms, and they are hard at work to make their music spectacular for their audience. Even if they are being challenged, they are also hard at work trying to make the show impressive. 
"I would say with the new drill writer that we have this year, it's maybe not necessarily harder than what we've endured in the past, but it's definitely a different style of learning that we have to adapt to, and that comes with its own challenges," said Sinnwell.
Even with the challenges, they still take the time to prepare for every show with detail even though it might not seem big, there's key details that go into preparing for a performance.
"There's a lot of different things that go into performing and preparing for these events. Parents are a huge help and a big part of the band. [They] help move our frontline, get us costumed up in uniforms, move all our props around and the big setup that goes into the start of our performance," said Sinnwell.
With all of their hard work, they are excited to perform in front of the crowds on friday nights, and at competitions.
"I can't make anybody go watch us at Urbandale or Valleyfest or anything, but I highly encourage somebody to see what all that hard work pays off as at one of our competitions, because it's really something special," said Sinnwell.