Say Howdy to Homecoming
Southeast Polk is saying 'howdy' to the barnyard homecoming dance on October 8 at 8:00 p.m. The theme for this year has left students concerned about the limited options for outfits. Junior Ashlyn Lamb sees the creativity in this year's theme and is excited for her outfit of the night. 
"I'm planning on wearing dark wash jeans, a pink bedazzled shirt with a denim jacket on top! For accessories I'm wearing a pink cowgirl hat, white cowgirl boots, and pink glam makeup! Totally glam cowgirl!" said Lamb.
When searching for something to wear for school dances, inspiration can come from anywhere. Even when searching for a barnyard-themed dance.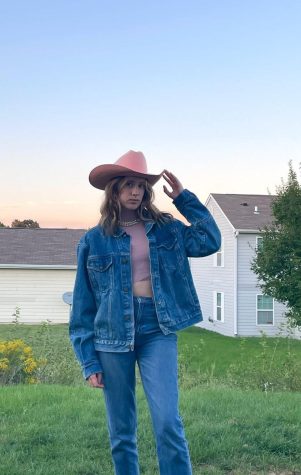 "My inspo is mostly from Pinterest. I took a lot of inspiration from some of the Coachella looks as well. I wanted to go for more of the cowgirl side of the theme 'barnyard' rather than the animal side, because I was having trouble thinking of a good idea for a barn animal outfit," said Lamb.
After brainstorming an outfit for the night, searching for where to buy clothing pieces has given students trouble. Lamb has come up with ideas that could help people in still searching.
"I am planning on looking for boots and extra accessories from thrift stores like Goodwill and the DAV, as well as a Target for more simple items. I think that Party City would be a good place to look too because they have a lot of cute costume staples like boas, cowboy hats, even fake animal noses," said Lamb.
With the rise of students sharing mixed emotions about this year's homecoming theme, people have been debating whether it is worth going to or participating in. Lamb has words of advice that may help students debating. 
"My advice would be to not stress it! I know a lot of people aren't into the barnyard theme this year, but it could be a lot of fun if you get creative with it. Homecoming is also just a fun dance!" said Lamb.