RhythAMetteS Practice Social Distancing Protocols
The RhythAMetteS have made many changes to their season to continue their practices and performances throughout the 20-21 school year. The team is a very big group which meant some adjustments due to COVID-19 protocols. With the team being a big part of Southeast Polk, the dancers are excited to finally get back out there. The coaches and team are adapting to new protocols in order to make the seasons last. 
RhythAMette practice consists of filling out a wellness questionnaire form before each practice. This ensures that none of the members of the team are sick or at risk. Dancers are required to stay six feet apart and wear a mask during their practices, as well as coming and going from practices.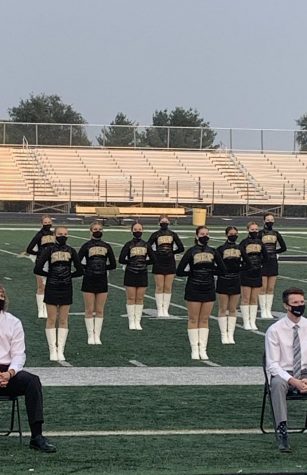 "It has made our practices harder because we have to keep our distance from each other so we are not able to do all of our usual things in our dances. It is also hard to dance with a mask on when you are out of breath, but we make it work," said senior captain Vivienne Nalevanko. 
If someone on RhythAMetteS was unable to perform, the team would have to replace her. The team's plan to handle an unexpected line up change is to have alternates for performances. This is complicated because each dancer plays a role in the dances. The team values the members' health and puts safety first when making any decisions. 
Everything is different this year with RhythAMetteS. They compete at a state competition every year,  and this year the team has to compete in different dances than what they normally do to follow social distancing protocols. The team is used to touching and doing lifts with the people on the team, but they can not incorporate that this year. RhythAMetteS do not get to do most of their team bonding activities, such as team dinners and a pool party.
"We don't get to connect as a team much this year, but we just have to stay positive and push through it," said Nalevanko.