Athlete of the Month: Karsyn Arend
Liv Cooney , Rampage Staff Reporter
December 11, 2020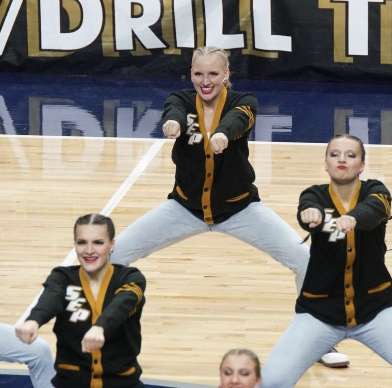 Q: How long have you danced?
A: Since I was three.
Q: How has being a captain challenged you?
A: Having to do new things on the team, like choreographing and being an overall good leader. 
Q: How has COVID changed your season?
A: We have to wear masks at practice and dance socially distanced. We only got to dance at one game. We had an extra performance in the field for friends and family. 
Q: What made you want to be on RhythAMetteS?
A: I've danced for most of my life and watching my sister be a RhythAMette was inspiring. 
Q: What is your favorite part of RhythAMetteS?
A: How well the team works together overall, and seeing a dance come together in the end after lots of cleaning as a team. 
Q: What are some challenges of being a RhythAMette?
A: Since we have done well in the past we have to live up to the standards set by previous girls. 
Q: What does a normal practice look like?
A: We usually run the dance a few times then the coaches give us corrections. We then go over those sections and clean to apply the corrections we were given. 
Q: What tradition do you enjoy most when being on the team?
A: When you find out you made the team and everyone dresses up, it's a good icebreaker to meet the new team. Also the morning of state when we all get ready and eat breakfast together 
Q: What makes a good performance?
A: When everyone looks cohesive and together.