Athlete of the Month: Kalob Runyon
Liv Cooney , Rampage Staff Reporter
December 11, 2020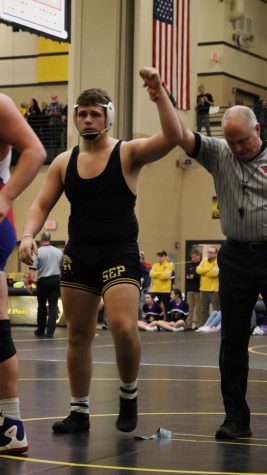 Q: How long have you wrestled? 
A: I am going on my 13th year of wrestling.
Q: What got you into wrestling?
A: My dad got me into wrestling. I don't really remember how, kind of something we just started doing.
Q: What are you excited for this season?
A:I 'm excited for the opportunity. With COVID, anything I can get is better than nothing, and I'm excited to be with my guys too, and win some matches.
Q: How has COVID affected your season?
A: It's affected me by not being able to compete at big tournaments over the summer.
Q: What has been your favorite memory of wrestling in high school?
A: The best memories always come at the hardest times, winning State Duals with my guys is just a different feeling. I've been blessed to win it twice.
Q: What are your goals for this season?
A: Goals are to go undefeated and win a State Championship.
Q: Do you have a pre-meet ritual? If so, what is it?
A: I like to kind of pack some of the same food each week, but not really any ritual.
Q: What do you miss eating when you cut weight? 
A: Probably fast food places, like Pancheros and Raising Canes.
Q: What does a normal practice look like?
A: Warm up, drill, technique, and live wrestling to finish.
Q: How has this year been different with a new head coach?
A: It has been different with the absence of Coach C, but Coach Agnitsch is ready for the opportunity, and I'm excited for it.
Q: How does playing football help you with wrestling?
A: It helps keep me doing something. It also helps with footwork and hand fighting.