Dancing In Black and Gold
The RhythAMetteS performed at regionals January 22. The competition took place in the gym. In preparation for their upcoming events such as home show and nationals, the RhythAMetteS have been practicing three times a week, focusing on dances such as: hip hop, jazz, and kick.
Senior captain, Mercedes Frisby has been a RhythAMette since her freshman year.  Her favorite dance this season is their elite team's kick line.
"It's fun to perform because you get to stylize it, and you feel good after finishing it because it's definitely one of our harder dances," said Frisby.
Throughout the football season, the RhythAMetteS performed at home games, usually featuring their well known hip hop dance.
Head coach Marianne Peterson has led the team to many national championships as well as proved a name for the girls.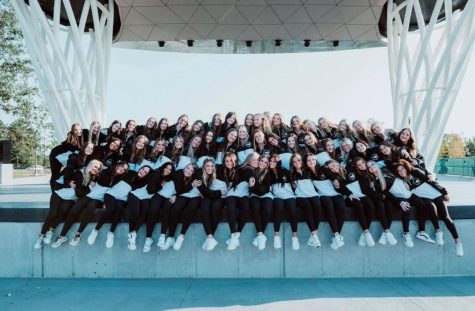 "Marianne wants the best for us and she pushes us to that," said senior Bailey McAllister. "She always sends motivational quotes in our group chat and reminds us how proud she is of our hard work and success."
As a captain, McAllister acts as a role model for the younger girls. Along with four others, McAllister and Frsiby help motivate and teach.
"Throughout practice, I try calling things out and telling everyone to work hard because the success is so worth it. Sometimes I'll send messages in our group chat to remind everyone what they need to do during practice to achieve our goals," said Frsiby.
McAllister tries her best to bond with everyone and make sure everyone feels included.
"I just want the girls to know that even though we're a competitive team, we're here to have fun, and not everything has to be serious," said McAllister.
With five national championships under their belt, and many state titles, the RhythAMetteS have only added to that this season. Winning kick and jazz at the state championships in early December was a huge moment for Peterson and her team.The RhythAMettes look for another national championship this year as they head to nationals in Arlington, Texas, March 25-26.