Girls' Basketball Shoots For Successful Season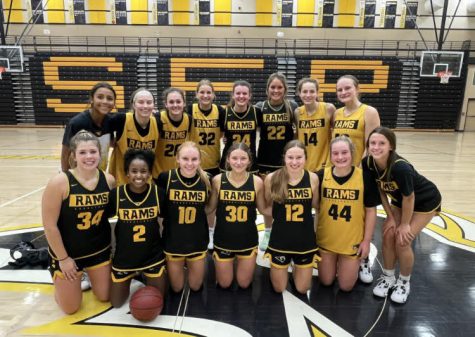 The girls' basketball team began its 2022-2023 season this winter. 
Coming out of winter break, the girls' varsity basketball team is currently ranked sixth in the CIML. So far in their season, they are 8-3 and had a winning streak of eight games up until their loss to the Valley Tigers.
"We were 8-1 going into Christmas break. That was a great place to be. They realigned our conference and the CIML is very tough this year. Every night is a tough game so we have to continue to prepare well," said coach Tracy Dailey.
They kicked off their season on November 23 with a win against Ames Little Cyclones, with a final score of 69-17. They continued to win all of their games leading up to their game against Valley Tigers on December 20, with Southeast Polk losing 36-40. 
Southeast Polk also lost to the Johnston Dragons in their game on January 3 with a score of 49-62. Their next game against the Ankeny Centennial Jaguars was close, however Southeast Polk lost the game in the end, with a final score of 52-54. 
The team has about 14 members this season and they have 2-hour practices after school. Sophomore Alyssa Bartlett shared some of her favorite things about basketball and the sentimentality she holds toward the memories she has of her time playing basketball.
"You can always look back at those memories when you're older and think I've been there or we did this together," said Bartlett. 
Bartlett described the excitement she and her team experience after winning a game and the special feeling that comes with sharing a memory like that with her teammates. One of her favorite memories she has with her team is when they won their game on December 2 against the Waukee Warriors in overtime, with Southeast Polk winning 58-49.
"It's a good feeling just to run back into the locker room right after," said Bartlett. "It's just a fun feeling because you're with people you have a lot of fun with."
As their season continues, some goals of the team are to make it into state championships, as well as to continue to be good teammates and improve their sense of teamwork. Overall, both teammates and coaches of the team agree that basketball is an opportunity for students to learn valuable life skills and make connections with their fellow students. 
"Basketball is a great way to be involved in a school activity. Whether basketball or another activity, students should just put themselves out there and get involved," said Dailey.