Cross country boys run towards state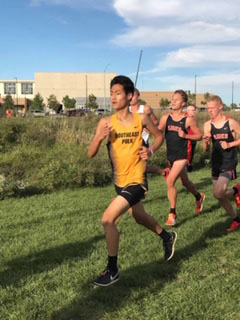 The boys' cross country team has been improving as the season has progressed. The team has been working toward their main goal to qualify and place well in the state meet.
Boys' cross country coach Pat Owens is excited about this season and motivates people to come support the team.
"A cross country meet is a totally different experience than what most fans have encountered. First-timers I've talked to can't believe how exciting it is," said Owens.
Sophomore Noah Nicholson has been working very hard this season to meet his goals.
Both Owens and Nicholson described how cross country provides a platform to get in shape, compete and become a member of a team. Aside from physical fitness, cross country runners learn discipline.
"It has a lot to do with both mental and physical toughness. When your body says to stop, your mind says to keep going," said Nicholson.
The boys will compete in a total of eight meets throughout the course of the season, not including the state meet. Each course they compete at comes with different challenges and obstacles.
Owens described how the meet in Ames was tough. He also said courses such as Newton's Golf Course that have large hills that posed as a challenge for the runners.
Nicholson explained how the Valley meet was particularly challenging due to the heat.
Although cross country can be categorized as an individual sport, there is still an overall team score. Owens has found that it is hard for people to understand team scoring.
"The team's first five finishers determine the team score based on their individual places in the race. For instance; 1, 3, 5, 7, and 9 equal 25; the team's sixth and seventh runners do not score," said Owens. "But [they] can displace another team's scoring runner(s) if they finish ahead of them, causing those scorers to have higher individual scores. It can be a little complicated."
The cross country team allows students to be involved in a competitive atmosphere, where athletes compete with themselves. Each individual works towards beating their best running time or setting a personal record. Nicholson described how this season has been going very well for himself individually, and he has been setting many personal records.
Owens believes that as the season progresses, the athletes will have to continue to overcome challenges and work hard to reach their goals.
"The second half of our season is typically where we show a lot of growth, so we'll see what the next few weeks bring," said Owens.