Southeast Polk Students Can Earn Cords and Medallions For Graduation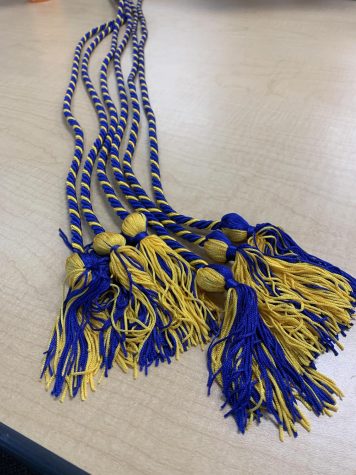 Students are able to receive medallions and cords for their various achievements throughout their high school careers.
Students are able to receive various medallions for receiving an honors diploma, being in the top three or fifteen percent of their graduating class, or receiving an Outstanding Senior Award, which is selected by each department. Students are also able to receive three different cords. This includes a Red Cord for donating blood at least three times, a Gold Cord for being accepted into the National Honors Society, and a Silver Cord for contributing a certain amount of service hours.
"If students are interested in the Silver Cord, they need to volunteer in their community and submit the Silver Cord forms.  Forms are due at the end of each semester and are available in the counseling office.  Current juniors and seniors need to complete 135 hours of community service by May 1st of their senior year.  Current freshman and sophomores need to complete 150 hours of community service.  The reason for the difference in total hours is due to adjusting due to COVID," said Valerie Powell, one of the guidance counselors at Southeast Polk. 
Junior Rylea Miller has completed 153 hours of service so far.
"I joined the Interact Club at school my freshman year, that club is solely volunteer hours and I enjoy it because we do tons of different activities like Meals from the Heartland, Mitchellville buddies, Jolly holiday lights, Blank Park Zoo, concession stands, etc." Miller said. "I love helping the community and it's fun with all of the different opportunities available to us."
Miller gave advice to those who may be looking to get their Silver Cord.
"My advice is just get out and start helping the community. Even just a couple hours a week. Getting your Silver Cord at graduation will feel like a big accomplishment as you put in your time and effort helping the community," said Miller.
Students are able to work towards these awards throughout their four years at Southeast Polk and will receive them at graduation.