DECA Heads to State
Southeast Polk High School will be the home to this year's state DECA competition on February 20, 2022.
DECA is a business club offered by the high school where students can learn and gain knowledge in the business world through competitions against other schools in the state, midwest region, and country. Every year, DECA holds three competitions– Districts, State, and ICDC [Nationals]– alongside leadership conferences. The state competition is the deciding factor for which students qualify for ICDC in Atlanta, Georgia during April 23-26, 2022.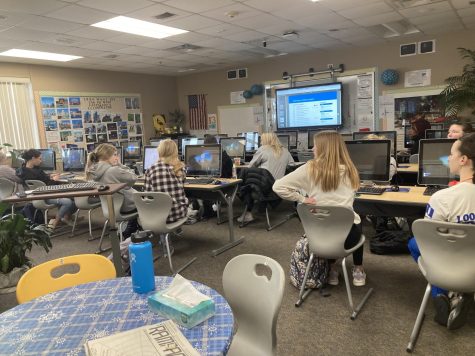 Senior Soren Olsen has participated in DECA for two years and is ready to tackle state.
"Last year, I competed in Entrepreneurship solo and team. This year, I'm doing the Entrepreneurship team event," said Olsen.
The way competitions work is students pick an event to compete in such as: Hospitality and Tourism, Food Marketing, Principles of Marketing, Apparels and Accessories, and more. Students can compete by themselves or with a team of two. Students also have the opportunity to write a paper with a team of 2-3 and present their paper come competition time. The students have to do simulations in front of judges and take a 100 question test prior to competing.
Olsen shares how he prepares for this level of competition.
"I study a lot but I also take the time to let the information sink in," said Olsen.
Olsen's favorite moment this year was getting third place at districts with his partner Logan Harris. Olsen also said that he enjoys competing at State more than the other two levels of competition.
"The stakes are a little higher and everyone [brings] their A game, trying to win," said Olsen.
Olsen offers advice for his fellow club members as they prepare for state.
"Even though it's hard and nerve wracking, it is important to relax," he said.
Southeast Polk High School Instructional Coach Carol Von Tersch has been the club advisor for DECA for 24 years with every year being different than the last. Von Tersch explains what got her to being the advisor for DECA.
"The school was in need and our former advisor asked me to do it," said Von Tersch.
The number of events available for state is different from districts; 53 total events in both individual and team decisions. That leaves students with many options but also with so much information to study. Von Tersch explains her role while students prepare for state.
"I'm an assistance to the students by helping them prepare and motivate them," said Von Tersch.
Von Tersch said that her favorite memory from DECA competitions was when Cameron Bristow and Bailey Boozell making finals at ICDC. Vontersch also explains the difference between state, district, and nationals in regards to the difficulty.
"The pressure of needing to place to move on. At state, all events are offered," said Von Tersch.
Von Tersch said that her hope is to see the students' achievements since this is the first competition for state in two years.
This year, DECA State is being held at Southeast Polk High School on February 20 from 12-5 p.m. The award ceremony to determine honorable mentions and those going to ICDC will be held from 9-11 a.m. on February 21 at Drake University.