Custodian Appreciation: Calvin Rabe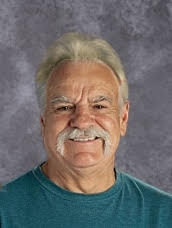 Q: What year did you start working at Southeast Polk High School?
A: September 13, 2010.
Q: What is your favorite thing about your job?
A: Being down and around the faculty and students and being able to have conversations with them.
Q: What do you love about Southeast Polk (the community, school, etc.)?
A: My grandkids went here. I love the area, it's close to everything and it's a pleasant place.
Q: Where did you work before Southeast Polk?
A: Construction and carpentry drywall. I was laid off in 2008 so I started at Southeast Polk.
Q: What is the most interesting part of your job?
A: The best part for me is just chatting with the students and faculty 'cause I get information and news from around the school.
Q: What are your favorite things to do while you're not at work?
A: Going to the movies, walking my dog and bowling.