Foreign Exchange Students Take On SEP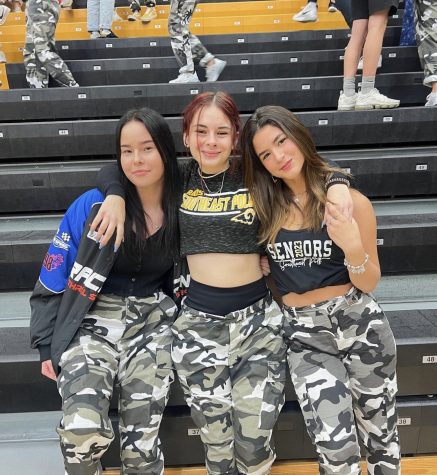 Many students attend Southeast Polk High School as a part of their exchange programs. Southeast Polk talks and connects with a variety of different agencies.
Guidance counselor Jessica Nolting, who coordinates foreign exchange students at Southeast Polk said, "I love what exchange students bring to our school community. As they oftentimes come from different backgrounds and educational experiences, they can provide unique and insightful perspective for our students."
This year we have seven students from a variety of different cultures and backgrounds attending Southeast Polk. Compared to years prior when Southeast Polk only take six or fewer.
While attending Southeast Polk, these students get the chance to fully immerse in all the activities and events the Southeast Polk community has to offer.
"I encourage exchange students to join clubs and activities, to attend extra-curricular events and school dances/functions. Often our exchange students will lead presentations for other classes, too," said Nolting.
Senior Lorena David is here from Romania. While at Southeast Polk she is a member of the basketball team and DECA.
She says the thing she misses most about Romania is her friends and family but, she has really enjoyed going to football games and pep rallies.
 "I miss my friends and family a lot but, I love meeting new people here and have an amazing host family," said David.
As a foreign exchange student, David has had the opportunity to try many new foods. In her home country of Romania one of her favorites was her grandma's homemade pies or really anything that she makes. Lorena said that her favorite food from the United States so far has been cinnamon rolls.
As a member of DECA, David has made many friends. While there are challenges of being in a new country. David said that it has gotten better since meeting her new friends.
She is most excited about an upcoming visit to California with fellow exchange student Kleja Verbylaite.
Senior, Kleja Verbylaite is a foreign exchange student from Lithuania. While in America she has participated in DECA and other school events.
Verbylaite's favorite thing from her home country is her family and friends. Her favorite dish from Lithuania is Cepelinai. One of her favorite things in America has been the diversity and different cultures.
Similar to Lorena, Kleja really enjoys going to all the school activities at SEP. Verbylaite enjoyed going to football games and is excited about the other activities that will occur this year.
Verbylaite has said her American dream is to ride a mechanical bull but, has yet to find somewhere that she could ride one.
One challenge exchange students have faced is difficulty meeting new people. In America it is uncommon to talk to all of your classmates and get to know them if you are not friends. As compared to in other countries where it is seen more normal to converse with others you may not be close to.
If you get the chance to meet one of our foreign exchange students get to know them. You may learn something new about their culture, or what it is like in America from their perspective.