New hall pass system enacted to increase security and accountability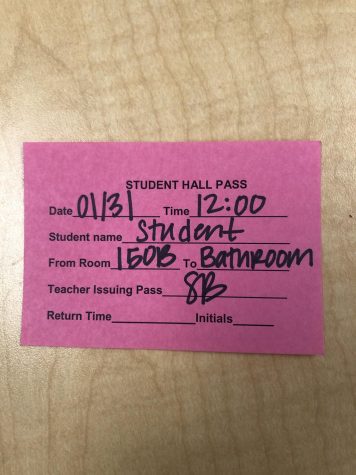 Southeast Polk High School is coming into 2020 with new rules and regulations. Students are now required to have a hall pass when in the hallway during class time. There are many reasons as to why this change occurred, like safety concerns and keeping students accountable for their misbehavior.
History teacher Tracy Daily understands the many reasons as to why this rule updated.
"As with every new rule, there are a number of reasons – safety and accountability for all students is always right up there," said Dailey.
Many students aren't accept the new rule and understand why it was added.
Senior Nolan Larsen understands the rationale behind the rule change.
"It's what needed to happen because to a certain point, I would not like to use broken school property," said Larsen. "This rule will just make it easier for teachers to hold students accountable."
Another reason as to why this policy was changed is  because of students violating the school's bathroom property and skipping class during the day.
Junior Dania Delgado is another example of a student that has neutral feelings towards this rule.
"Many students were being disruptive and rude to the janitors by vandalizing the bathrooms, and many students wander halls and skip class," said Delgado. "I don't disagree with it and it's not as big deal as people make it."
A majority of students don't believe that this rule will cause problems with students and think that it's not a big deal.
Sophomore Addy Bickel believes that this rule won't create new problems.
"Kids will be angry for like three seconds and then it'll all go back to normal," said Bickel. "Some people say it will pass, but it honestly isn't that big of a deal if you think about it."
The high school is implementing hall passes in order to create a better and safer environment for the students and staff, and a lot of people accept and agree with the steps they're taking to make it happen.
"This will at least limit the people going into the bathrooms so they can [deduce] who is actually causing the disrespect," said Larsen.