Rampage Senior Farewells: Taylor Redenius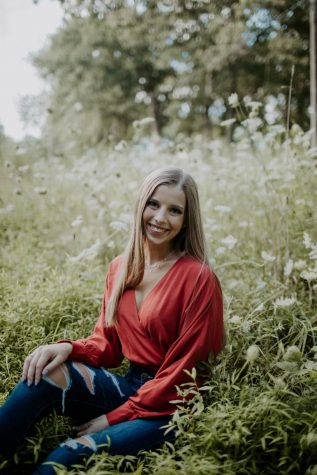 These past four years have been the most interesting and exciting years of my life. I have learned so many lessons while in high school and made many memories that I will cherish for the rest of my life. There are many people who say time spent in high school is the worst, but I disagree. High school is what you make out of it and one piece of advice I have for everyone is get involved. 
Get involved in anything and everything you can. You will make so many new friendships and memories through clubs and sports. Find what interests you and pursue it, take chances and risks. High school is a time to explore and find what you love to do. Try out for the basketball team, join the speech team or DECA, get involved and find out what you are passionate about. Take a class about sewing, art, foreign language, writing, anatomy, or business, try something new and step out of your comfort zone. Live your high school experience to the fullest. You do not want to look back on your four years and think about all of your regrets and what you could have done differently.
One thing I am so grateful for is getting involved with Rampage, Yearbook and RamCam. I took Composition and Media Literacy as a little freshman, not realizing what I was about to get myself into. I joined Yearbook second semester of freshman year and met some of my closest friends who I got to work alongside as editors my senior year. I met Mrs. Behrens, who has been there for me for the past three years. She has taught me how to design and get more creative, how to work with others, and how to be more "out there" and not be afraid to talk to students and teachers I don't know. One of my biggest regrets also happened freshman year. I turned down the opportunity to join Rampage. Luckily, I was accepted in my senior year with open arms and I met some of my closest friends. They are quite literally another family to me and I love how close we all are together. We don't split off into little "cliques" when talking to each other, we always brainstorm and communicate as a large group and I loved that. The advisor of Rampage, Ms. Boshart, has been there for me for years. She has given me so much advice and has always been there for me. She is the most caring person I have ever met and I hope one day I can be half as amazing as her. 
After being in high school, there are many things I would offer as advice to the underclassmen and future high schoolers. Get your homework done and earn those easy points. They may seem pointless or you may get lazy, but push through and do it anyway; you will not regret it. Those points and that practice will lead to success on tests and the final exam and boost your grade. Another thing, build close relationships with your teachers. They want to help you and they want you to succeed, they will be there for you for anything as long as you go to them. Take advantage of this opportunity! I have grown close with multiple of my teachers and am so thankful for everything they have done for me. 
Something else I would like to say to underclassmen is to be yourself. Don't be a follower but be a leader. If you want to go out for show choir, but your friends want to play soccer, follow your heart and go where you will be happy. Don't let anyone bring you down. Don't let words from others hurt you. Stay strong and continue to do what makes you happy. You are going to lose friends and you are going to gain friends during high school, it is all a part of growing up. The main thing is to focus on you, what you want and need, and what makes you happy. 
High school was cut too short for me and the class of 2020, and as upset I am about missing a large portion of my senior year, I am thankful for everything I got to do while in high school. I would like to thank my classmates for making some of the more boring classes a little less boring and for sticking up for one another when we need it. Thank you to my friends for always being there for me and for supporting me through everything. You guys have made these past four years so much fun and I am thankful for every one of you. Thank you to Mrs. Fast for being such a helpful counselor. I felt so comfortable around you and knew you would always be there to help me with any problems I had and I am so thankful for that. Thank you to my RhythAMetteS coaches for pushing me to be my best and helping my confidence grow. You all taught me discipline, teamwork, and how to have fun while working hard. To my RhythAMetteS family: I love every single one of you. Thank you for being my second family and for all of the crazy memories. To all of my teachers, thank you for pushing me and helping me through every course. Thank you for helping me when I needed it and thank you for believing in me. These past four years have been crazy amazing and I am thankful for every opportunity I have gotten. Go out there and make your high school experience the best.