Multipurpose Stadium Construction Continues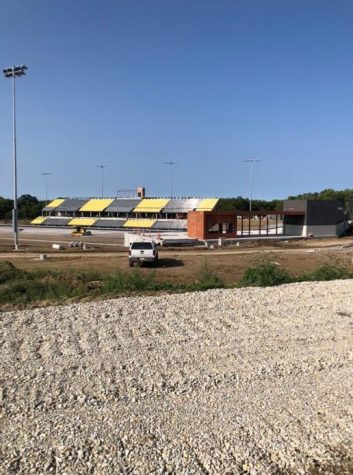 The new multipurpose stadium is under construction and set to be finished in November of 2022 after multiple setbacks. 
"The community vote was in September of 2020, design work began shortly after that, construction began in July of 2021," said Superintendent Dirk Halupnik. 
The stadium project has already greatly impacted the community. In the future, it will allow for many activities and sports to be able to practice, compete, and perform in the new stadium. Community members including teachers, students, parents, and many more will be able to enjoy the facility. It will also give junior high activities to have more space in the old stadium.
"We'll get more participation in sports, not just football," said senior Gabe Stilles. "It gives [athletes] more resources and helps them play their best." 
The new stadium will have 5,000 seats on the home side and 1,200 on the visitor side, with a standing space that can hold additional people. The old stadium seats 2,800 people in total. Many more people will be able to attend activities in the new stadium.
"We are going to have a state-of-the-art facility for our students and the community that has been many years in the making. It will be a great addition to the district and a very versatile venue that we will all be able to be very proud of," said Halupnik. 
Although there have been setbacks, it will all be worth it in the end. 
"The inconvenience of construction [with] Martha Miller Drive being closed last spring. Cross country could not fully use the course during construction," said Halupnik. 
This new stadium cost the community space and time throughout construction. "We had a very wet spring which slowed down progress on construction," said Halupnik. 
The stadium was set to open in August but was moved back to November due to the inability to have continuous construction on the stadium. 
"It is disappointing, but it is kind of nice to play on the same field we've played on," said Stiles. 
Stiles will not have the opportunity to play a football game in the new stadium unlike some of his fellow teammates who are looking forward to the opportunity.