Students face anxiety with ACT preparation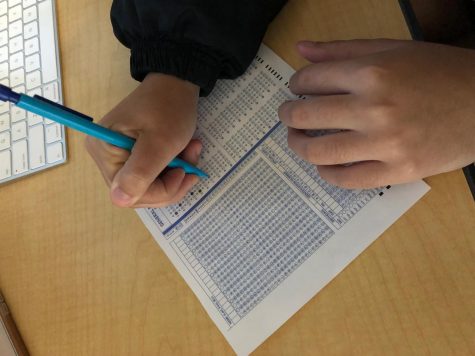 Student nerves slowly start to rise as the ACT test date creeps closer and closer. Students scramble to find practice tests and research how to best prepare for a test that could make or break whether they get into the four-year college of their choice.
Junior Gracie Muck had already experienced this dread her freshman year.
"It's a long process, but it's not as bad as I thought it was going to be," said Muck.
The ACT is generally the admission exam or gateway ticket into getting into the four-year college or university of a student's choosing.
Counselor Kari Fast has explained the test to many students.
"The ACT gives the college a good idea on what you know. So essentially the ACT is a composite of what you've learned from kindergarten up to junior year or senior year whenever you take the ACT," said Fast.
The best score you can get on the ACT is a 36 but many four year in-state colleges are looking for a 20-23. Anything above a 26 could put a students in scholarship contention.
"Gosh if you get a 36, you're looking at free tuition to a college of your choice. I've never seen anyone get a one for an ACT score I think the lowest I've seen is a 12. It takes your four sub scores, averages them together and divides them by four to get your composite," said Fast.
Signing up for the ACT can be a little time consuming but you should always register for it on their official website, ACT.org. The brochure says it should take 20-30 minutes, but students are normally looking at taking up to an hour to sign up.
"Every ACT test for the school year is posted on the ACT site. You create an account with ACT.org and you choose a test date that works best for you, see what locations are available for testing and then you complete it. It's pretty lengthy registration they will require you to put your name, address, contact information but they will also ask for you to do a career interest inventory," said Fast.
When Much took the test fot the first time, she was in the position many others will feel or have felt: unsure of what to study and how to properly prepare.
"I just studied a bunch of stuff. You don't know exactly what's going to be on it, it's just like a mix of a bunch of things. Taking it as a freshman I didn't really know anything about high school classes. I would get the booklet from your counselor and take practice tests online, " said Muck
Finding ways to prepare for the ACT when taking it for the first time can be difficult. But talking to a counselor and finding other resources online such as practice tests can make this process a lot less nerve racking and easier for the student in the end.
"I think it's pretty individual to each student and what works best for them. You can sign up for questions of the day online so you look at a question each day or you can take practice tests online. Some kids need something tangible where they actually need a flashcard with a sample ACT question on the front and the answer on the back, so they have something to manipulate or we have some old ACT test prep booklets that use retired questions. It's up to each kid and what works best for them," said Fast.
Nerves are typically the biggest obstacle for students to overcome when taking such an important test.
"Kids are typically concerned on how to prepare for it because it is such an important exam and it makes or breaks whether or not you get accepted to the college that you want to attend so kids get really nervous typically about the ACT itself," said Fast.
For Muck, she understood it was her first time taking the test and that she had many chances to improve her score, she hopes every student takes advantage of this.
"I told myself 'it's just a test and it's my first time so it's fine' I can also take it again it's not like you get one chance and it's over. Take advantage of the multiple times you get to take it," said Muck.